Dried flowers are full of subtle colors and myriad textures. So what can you do with them besides arranging those with stems in a lovely bouquet? Here are just 10 of the many possibilities for using flowers — around your home, in gifting, at celebrations, in cooking, and in body care.
1. Cooking
Edible dried flowers are delicious in cakes and other desserts, and many of them make lovely teas. You might experiment with making your own tea blends, using green and black teas, as well as herbs.
2. Cleaning
Dried flowers are great additions to natural cleaning products. They partner nicely with citrusy scents and mints, too.
3. Sachets
Sew little aromatic sachets to include in dresser drawers and closets. You can even fashion no-sew varieties by tying little muslin or fine mesh bags.
4. Gifting
Sprigs of dried flowers look lovely atop a package amid a bow. You might also scatter dried petals on your gift card.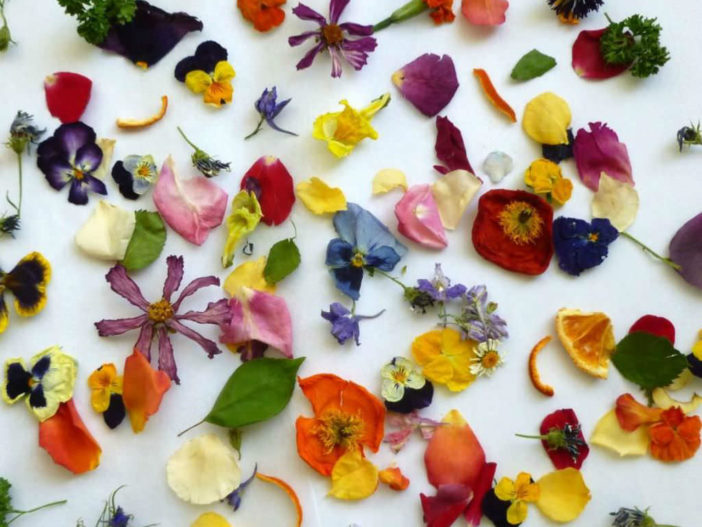 5. Celebrations
Make dried flowers the focal point of a centerpiece. A large, clear bowl of hibiscus flowers or a basket of lavender flowers will add color to a side table or dinner seating, for example. (Choose aromatic flowers for around the house but less fragrant ones for the dinner table, so they don't interfere with the aroma of the food.)
At a wedding, strew the procession path with rose petals and toss them instead of rice. Discover other ways to include herbs, including flowers, in a wedding celebration.
6. Potpourri
A collection of colors and textures can be combined to make a potpourri. Make the scent long-lasting by including a fixative such as an orris root, and enhance the scent with essential oils, if you like.
7. Candlemaking
If you make your candles, you can easily incorporate dried flowers into your molds. But even if you're not a candlemaker, you can add dried flowers to the outside of your plain candles. Simply place crushed dried flowers on wax paper. Pour a little melted wax over the flowers, then roll the candle in the flowers.
8. Papers
Dried flowers can also be incorporated into the process of making your paper. Or, for handmade cards, simply apply dried flowers to good quality (fairly heavy) cardstock with a bit of glue and a paintbrush. (Tweezers are helpful for arranging the flowers.) Dried flowers can also be used to decorate scrapbooking pages.
9. Dyes
Some dried flowers make excellent dyes for cloth and Easter eggs, too. Experiment with hibiscus flowers for a reddish-blue/lavender result and safflower petals for a pale yellow. A mordant (such as alum or cream of tartar) will help give your color staying power.
10. Bathing and other body care
The best herbal baths include dried flowers. Sprinkle them directly in your bath water, or make an herbal infusion and pour it into your bathroom. In other body care, infusions of herbal flowers are also the basis of many lotions, toners, facial steams, masks, herbal hair rinses, and sprays.
Source: frontiercoop.com
Links