Scientific Name
Barringtonia acutangula (L.) Gaertn.
Common Name(s)
Indian Oak, Indian Oak Tree, Small Indian Oak, Indian Putat, Freshwater Mangrove, Itchy Tree, Mango Pine
Synonym(s)
Eugenia acutangula, Barringtonia acutangula subsp. acutangula, Barringtonia rubra, Butonica acutangula, Caryophyllus acutangulus, Huttum acutangulum, Michelia acutangula, Stravadium acutangulum
Scientific Classification
Family: Lecythidaceae
Genus: Barringtonia
Flower
Color: Bright red
Bloom Time: Spring
Description
Barringtonia acutangula is an evergreen tree that grows up to 40 feet (12 m) tall. The bark is dark brown and rough, while the leaves are minutely denticulate-crenate and narrowed into the petiole. Flowers are fragrant, with bright red stamens, and appear in up to 16 inches (40 cm) long pendulous racemes. Petals are up to 0.4 inches (1 cm) long. Fruits are bluntly quadrangular or ovoid, up to 1.6 inches (4 cm) long, broadest in the middle, and contain one seed.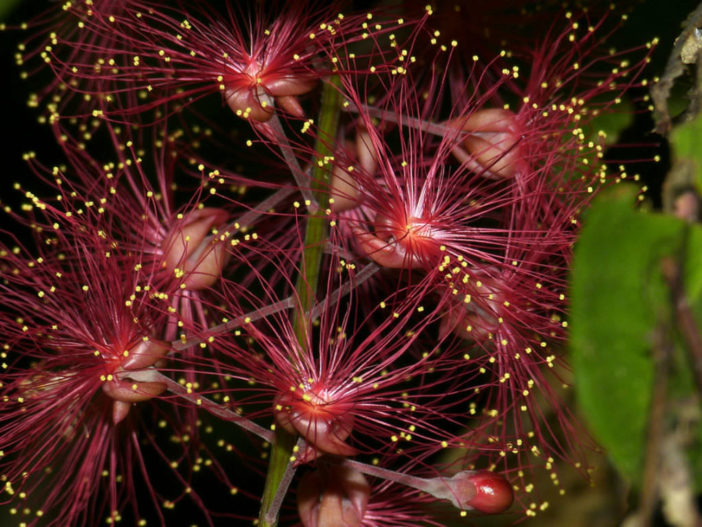 How to Grow and Care
This plant grows naturally in wet tropical, moist tropical, and wet subtropical climatic zones, generally in areas with low yearly temperatures between 68 to 77 °F (20 to 25 °C), high yearly temperatures between 81 to 93 °F (27 to 34 °C), annual rainfall between 40 to 160 inches (1000 to 4000 mm) and a dry season of 6 months or less.
It prefers a position in full sun or light shade and grows best in fertile, humid, well-drained soil but tolerates shallow, saline, and infertile soils. An established plant is pretty drought tolerant and tolerant of saline conditions and salt-laden winds. It thrives in the wild, where its roots dabble in the brackish waters of lagoons, inlets, estuaries, and seasonally flooded coastal regions.
It is usually propagated by seeds.
Origin
This species is native to coastal wetlands in southern Asia and northern Australasia, from Afghanistan east to the Philippines and Queensland.
Links
Photo Gallery
Click on a photo to see a larger version.
Advertisements
We participate in the Amazon Services, LLC Associates Program, an affiliate advertising program designed to provide a means for us to earn fees by linking to Amazon.com and affiliate sites.