Scientific Name
Dendrobium nobile Lindl.
Common Name(s)
Noble Dendrobium
Synonym(s)
Callista nobilis, Dendrobium coerulescens, Dendrobium formosanum, Dendrobium lindleyanum
Scientific Classification
Family: Orchidaceae
Subfamily: Epidendroideae
Tribe: Dendrobieae
Genus: Dendrobium
Flower
Color: White, pink, and purple
Bloom Time: Winter and spring
Description
Dendrobium nobile is a sympodial orchid with yellows green pseudobulbs. It grows up to 4 feet (1.2 m) tall. Leaves are narrow, up to 4 inches (10 cm) long and up to 0.8 inches (2 cm) wide, and produced in early fall. In late spring, a pseudobulb that is about to flower loses its leaves and replaces them with branching flower stalks. Each stalk carries 2 to 4 flowers up to 3 inches (7.5 cm) across. The color of the flowers varies from white to pink and purple, but the lip always has a deep maroon blotch in the center.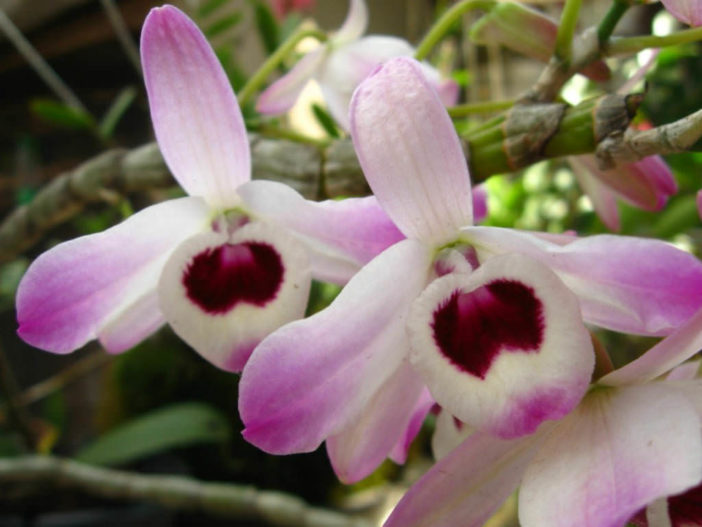 How to Grow and Care
Although there is a huge variety from which to choose, they all follow two important rules when it comes to learning how to grow Dendrobium orchids.
First, they like to live in little pots with their roots crowded into a tiny area. If you try to be nice and give them room to spread out, the roots will likely stay too moist and begin to rot. If you don't like the look of a large plant growing in a small pot, camouflage it in a larger planter.
The other way to care for Dendrobium orchids is to give them as much bright light as possible. This doesn't mean sticking them in the desert sunlight, but a south-facing window in the house is the place where they will thrive. In almost all cases, when your Dendrobium orchid isn't flowering, it's a case of not enough sunlight.
See more at How to Grow and Care for Dendrobium Orchids.
Origin
This species is native to southern China, the Himalayas, and Indochina.
Links
Photo Gallery
Click on a photo to see a larger version.