There are two excellent reasons to grow Abutilon species: the flowers or the blooms. In general, the plants feature deeply lobed leaves reminiscent of maple leaves, although these loose-growing shrubs are in no way related to maple trees. Variegated species are grown for their striking, exotic-looking leaves, while flowering species have solid green leaves and lovely pendant flowers in various colors. Although these aren't the most common houseplants around, extensive work has been done with a handful of species to produce various beautiful cultivars prized for their leaf shape and flower color. In terms of culture, these are not particularly difficult plants to grow, and they prefer a cooler winter room with less water than the warmth and adequate moisture in the summer. For best results, prune the plants to encourage bushiness.
Growing Conditions
Light: Ideally, Abutilon should receive a few hours of direct sunlight, making an east-facing window the perfect situation throughout the summer. You can safely reduce light in the winter, but the shortening light cycle will probably be adequate, so you don't need to move the plant.
Water: During the summer growth period, let the soil dry to 1 inch (2.5 cm) between waterings, then give adequate water until it runs through the pot. In the winter, reduce the watering to monthly. It also helps to mist plants weekly or so throughout the winter to prevent pest infections.
Soil: A rich, peat-based potting soil with excellent drainage is beneficial.
Fertilizer: Feed with a weak liquid fertilizer throughout the growing season. Reduce or stop fertilizer entirely in the winter.
Repotting
Abutilon is a relatively fast-growing plant, especially when they're young. Consequently, younger plants might need to be repotted twice a year, once at the beginning of the growing season and once in the middle. Older plants, however, benefit from being slightly pot-bound, so they should be repotted either every other year or yearly into only slightly larger pots. Pot-bound plants tend to grow more vigorously and bloom better.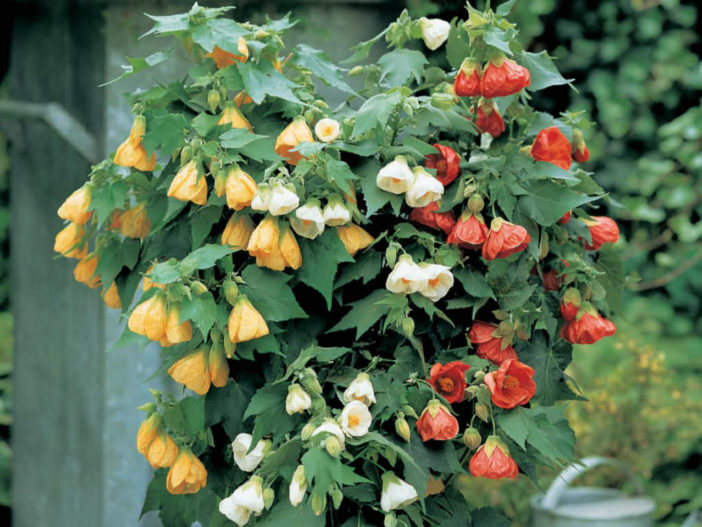 Propagation
Abutilon propagates easily from stem-tip cuttings. Some experts recommend taking new cuttings every three years to start a new stock and dispose of older plants. However, with proper pruning, there's no reason you can't keep an Abutilon houseplant thriving for many years. A rooting hormone will increase your chances of success. Take cuttings in the spring and place them in seed-starting soil in a warm, bright room.
Grower's Tips
Abutilon is not an especially difficult plant to grow. However, during warmer, dry winters, they are sometimes affected by spider mites and are known for leggy growth. To encourage bushy growth, prune the plant by 25 percent to 40 percent in the late winter, right when new growth is about to start. Also, occasionally pinch off new growth throughout the summer to encourage healthy growth. When pruning, ensure to stagger your cuts and remove some large branches to open the plant's canopy. As a final note, these plants dislike acidic soil, so adding more lime to your potting mix is unnecessary. Instead, stick with the basic peat-based potting soil and make sure to refresh it as the mixture decomposes and becomes more acidic over time.
Source: about.com
Links