Geum is a perennial plant that holds its own in almost any flower border. Its low, deep green foliage is a pleasing backdrop for the tall stalks of dangling flowers in warm red, orange, and yellow tones.
Also known as Avens, Geum grows in a small clump about 12 to 18 inches (30 to 45 cm) wide. While there are many wild species of Geum, gardeners typically grow the hybrid cultivars, which all have fluffy double blossoms, usually 1 to 2 inches (2.5 to 5 cm) in diameter, with many layers of petals. Geum flowers are held above the evergreen foliage on wiry stems, giving them a light, airy feeling. They flower profusely in spring and then sporadically throughout the summer.
Geum is also known for its seed heads. After the flowers fade, the seeds develop inside a unique structure with feathery gray tails.
Geum is welcome in almost any garden bed or floral arrangement with its elegant jewel-like flowers and attractive foliage. It's not a tough-as-nails plant, but it will thrive with little effort with basic care and decent soil conditions.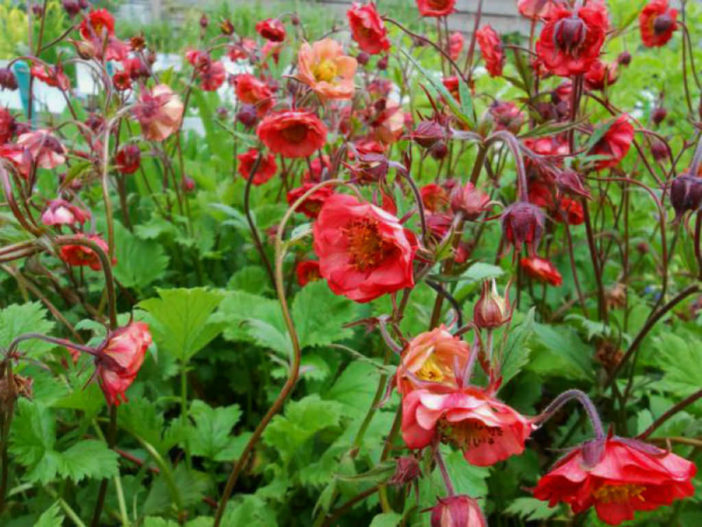 Growing Conditions
Geums grow best in a sunny position with average garden water. However, in really hot climates, afternoon shade is essential to keep the plants from being scorched. Good drainage is also important, as Geum is subject to root rot in wet conditions. Otherwise, they are very adaptable to different soil types.
Garden Uses
Geums are generally grown as a front-of-the-border plant, where their low foliage and bright flowers make a cheerful edging to flower beds. Since it is a small plant, masses of one variety are very effective, though they can also be interspersed with other small-statured annuals and perennials for a cottage garden look. Geums are also excellent in potted arrangements and make great cut flowers.
Cultivation and Care
Geum is easily grown by seed sown indoors six to eight weeks before the average date of the last frost. However, improved cultivars are readily available in garden centers, so most gardeners choose to start them as transplants. Plant them in good garden soil that has been enriched with compost. They are not considered drought-tolerant and will need weekly water throughout their life.
It's important to note that Geums are short-lived perennials that require division every few years to renew the patch. Otherwise, they will naturally decline and disappear.
Bloom and Foliage Care
The bloom period can be prolonged somewhat by deadheading. However, the foliage is evergreen in all but the coldest climates and can be allowed to remain through the winter. If the leaves are nipped by the cold, simply cut the plants to the ground – they will re-emerge in spring.
Pests and Disease
Few pests or diseases trouble Geum. Root rot, particularly in winter, can be a problem in wet soils. Powdery mildew can turn up in dry soil, especially late in the season. In all cases, diseased Geum plants are a sign of improper growing conditions or simply the age of the plants. But as a short-term fix, removing the infected foliage and allowing fresh leaves to regrow is worthwhile.
Source: lovetoknow.com
Links