Scientific Name
Alstroemeria aurea Graham
Common Name(s)
Lily of the Incas, Golden Lily of the Incas, Peruvian Lily, Yellow Alstroemeria, Lis de Incas (French), Goldene Inkalilie (German), Guldalströmeria (Swedish)
Synonym(s)
Alstroemeria aurantiaca, Alstroemeria araucana, Alstroemeria chiloensis, Alstroemeria concolor, Alstroemeria mutabilis, Alstroemeria peruviana, Alstroemeria pulchella, Alstroemeria xanthina
Scientific Classification
Family: Alstroemeriaceae
Тribe: Alstroemerieae
Genus: Alstroemeria

Flower
Color: Golden-orange and yellow
Bloom Time: June to August
Description
Alstroemeria aurea is a vigorous perennial plant that grows up to 4.9 feet (1.5 m) tall. Leaves are smooth, grayish-green, narrow, lance-shaped, and up to 4 inches (10 cm) long. The spectacular flowers are orchid-like, golden-orange and yellow, often with spots. It is in bloom from June to August. Flowers are hermaphrodite (have both male and female organs) and are pollinated by insects.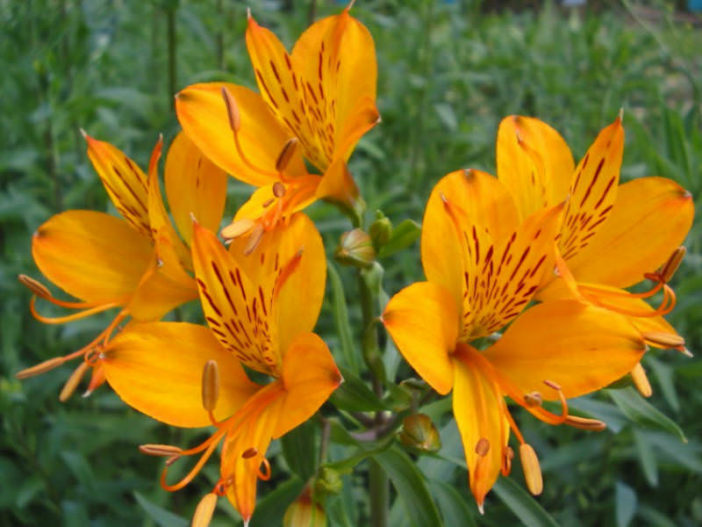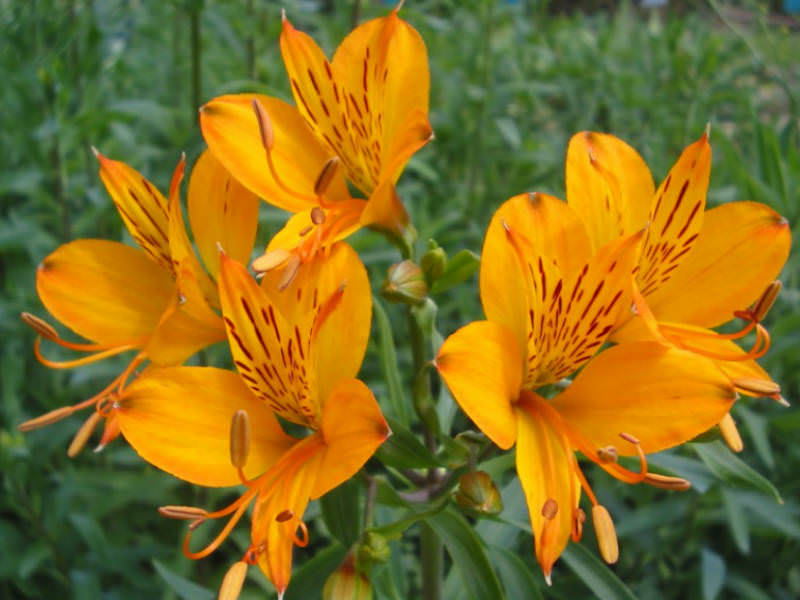 How to Grow and Care
The best place to plant Peruvian Lily is where they will either receive full sun or a lightly shaded area. At least allow them to have good morning sun. Drainage is important for the survival of Peruvian Lily, so be sure it drains well. Observe how the proposed area you want to plant response after good rain. If it still has standing water after about 5 hours, look for another location. If you're limited to a certain location that holds water too long, build up the soil to a higher level to improve its drainage capabilities. The plant will rot if it sits in standing water or soggy soil.
You can plant Alstroemeria after the last frost is over. If you have your bare root plants, but the ground is still hard or too wet, place the roots in a pot until the ground is ready for them. Keep them in a cool area while you're waiting. Don't water them much before placing them in the soil, and they are still in the pots.
See more at How to Grow and Care for Peruvian Lily.
Origin
This species is native to Chile.
Links
Photo Gallery
Click on a photo to see a larger version.