The stunning tropical plants known as the Bird of Paradise all stop people dead in their tracks when displayed in a shop window. If you've seen one of these distinctive flowers and want to know more, read up on the symbolic and botanical facts about this eye-catching flower.
As one of the more unusual looking flowers used for arranging and bouquets, the Bird of Paradise Flower carries symbolism such as:
– The 9th wedding anniversary for a married couple
– Freedom and the ability to travel, due to the flower's resemblance to birds in flight
– Magnificence, excellence, and success
– Royalty and a regal bearing
– Paradise on Earth
– Joy through challenges and successes alike
– Faithfulness in romantic relationships
– Optimism towards the future.
The movement suggested by the spiked petals brings to mind a flock of birds gracefully departing. It's not hard to see why it's developed such a long list of different meanings.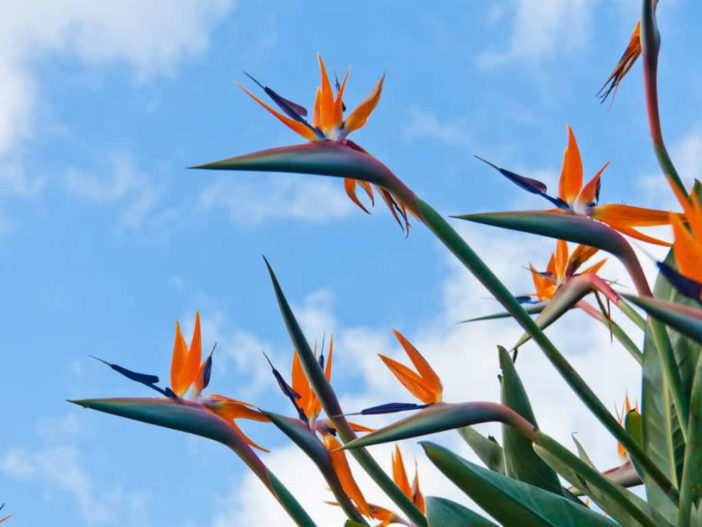 Etymological Meaning
All five different Bird of Paradise flowers gets grouped in the genus Strelitzia. While the common name comes from the bloom's bird-like appearance, the scientific name is drawn from Queen Charlotte of Mecklenburg-Strelitz. She was married to King George III when the flower was first imported into Great Britain, so the royal gardener named it after her. It's also more commonly called the Crane Flower in its native home.
Symbolism
The Bird of Paradise symbolizes many different meanings because it's such an exotic and unusual flower. Everyone that encountered it developed their own idea of the bloom as a symbol. As a native lily from South Africa, freedom and beauty are the two traditional meanings that stand out the most. The Bird of Paradise also means a royalty lineage or bearing due to its association with ruling families. The sheer beauty of the contrasting petals makes it an obvious symbol of excellence and success. It's not commonly used as a birth flower, but it is the floral gift given for the 9th wedding anniversary since the Bird of Paradise is reminiscent of faithfulness. As one of the largest individual blooms used for arranging, it's usually used in the center with clusters of smaller matching flowers to make a statement.
Color Meanings
Since all the Bird of Paradise species feature different sets of 2 contrasting colors, the contrast has more meaning than the specific colors. The look created by combining bright orange and purple or gold and dark blue petals truly makes the flower look alive and like a bird about to take off from the plant's stem. All five species sport bright colors rather than muted or pale tones, adding passion and energy to the symbolism behind them.
Meaningful Botanical Characteristics
While they respond well to being kept in a greenhouse or other humid and warm environment, there is still relatively little breeding of Bird of Paradise plants to produce new varieties. All five species currently available developed in the wild on their own. These plants usually rely on nectar-feeding sunbirds for pollination, so professionals and hobbyists that want to breed their own flowers must do the delicate work themselves with special tools. A few plants that share the same name as the Bird of Paradise are used for medicinal purposes, but the true version is poisonous and offers no medicinal or edible value. The unscented plant also produces no oils or absolutes for perfume formulation.
Special Occasions for the Bird of Paradise Flowers
Wondering when to splurge on a big Bird of Paradise as a gift for someone else? Stick with an appropriate occasion like:
– Birthdays, especially for adults that already have everything else
– Congratulating someone on a promotion, graduation, or other success
– Celebrating the handling of a sticky situation in a graceful way
– Birth and relocation announcements, or any celebration of a new beginning
– Farewell parties for people departing on long trips.
Source: flowermeaning.com
Links