Scientific Name
Fritillaria meleagris L.
Common Names
Snake's Head, Snake's Head Fritillary, Chess Flower, Frog Cup, Guinea Hen Flower, Guinea Flower, Leper Lily, Lazarus Bell, Lazarus Bell, Chequered Daffodil, Drooping Tulip, Fritillary
Synonyms
Fritillaria meleagris subsp. meleagris, Lilium meleagris, Fritillaria pallida, Fritillaria graminifolia, Fritillaria praecox, Fritillaria major, Fritillaria contorta
Scientific Classification
Family: Liliaceae
Subfamily: Lilioideae
Tribe: Lilieae
Genus: Fritillaria

Flower
Color: Chequered purple (sometimes pure white)
Bloom Time: March to May
Description
Fritillaria meleagris is a bulbous perennial with greyish-green lance-shaped leaves. It grows to 16 inches (40 cm) tall. Flowers are bell-shaped with chequered patterns in shades of purple or are sometimes pure white. The plant blooms from March to May. It has a button-shaped bulb, up to 0.8 inches (2 cm) in diameter.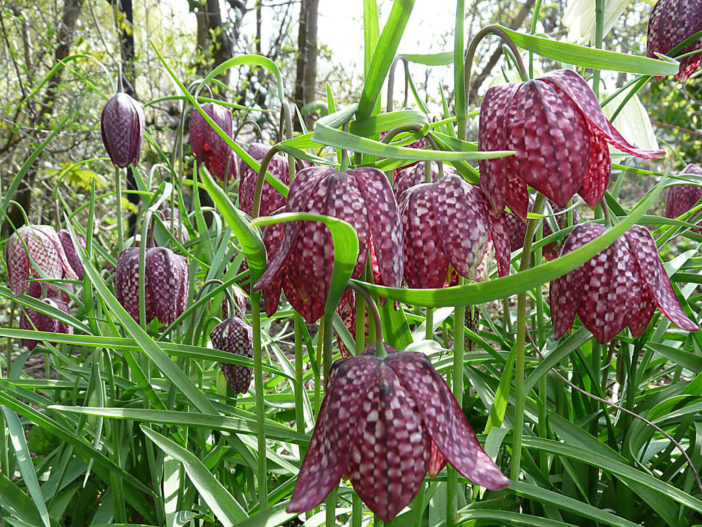 How to Grow and Care
Unusual and hardy, Fritillaria bulbs produce best when planted in moist soil in a sunny to part shade location in the flower bed. Wildflower Fritillaria lilies are an excellent choice for the gardener who wants an out-of-the-ordinary specimen among more common spring-blooming bulbs.
Growing Fritillaria may reach 4 feet (1.2 m) or more in spring. Use wildflower Fritillarias as specimens, in groupings, or as an addition to a traditional bulb bed.
Be prepared to plant bulbs as soon as they arrive. Plant larger bulbs with the base about 5 inches (12.5 cm) below the soil surface, while smaller Fritillaria bulbs should be planted about 3 inches (7.5 cm) down. Plant bulbs in well-drained soil and keep it moist until the root system is established.
Fritillaria bulbs resist deer, squirrels, and bulb-digging rodents and may help protect other bulbs that are favorites of the critters.
See more at How to Grow and Care for Fritillaria Bulbs.
Origin
Native to Europe and western Asia.
Links
Photo Gallery
Click on a photo to see a larger version.