Delicate and exotic, Fritillarias may appear difficult to grow, but most Fritillaria care is simple after the large bulbs bloom. The name is derived from the Latin term for a dice-box (fritillus) and probably refers to the checkered pattern of the flowers of many species. Fritillarias are true Lilies growing from non-tunicate bulbs. Fritillaria imperialis, also known as Crown Imperial, has the showiest flowers of the species, but some say it also has a malodorous fragrance reminiscent of skunk odor. These Fritillaria bulbs have nodding flowers, topped with a tuft of foliage. Another of the wildflower Fritillaria lilies is the Snakes Head, Fritillaria meleagris. This flower has a checkered or mottled pattern on the drooping blooms.
Information on the Fritillaria indicates that most are Asian or European natives; however, Fritillaria pudica is native to western North America. Information on the Fritillaria plant also describes the Chocolate Lily, Fritillaria affinis, which grows wild in southeastern Canada south to the San Francisco bay area.
Growing Conditions and General Care
Unusual and hardy, Fritillaria bulbs produce best when planted in moist soil in a sunny to part shade location in the flower bed. Wildflower Fritillaria lilies are an excellent choice for the gardener who wants an out-of-the-ordinary specimen among more common spring-blooming bulbs.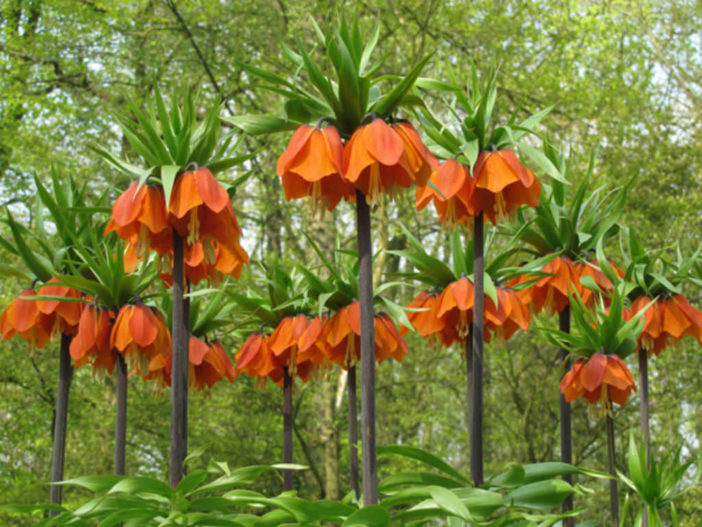 Growing Fritillaria may reach 4 feet (1.2 m) or more in spring. Use wildflower Fritillarias as specimens, in groupings, or as an addition to a traditional bulb bed.
Be prepared to plant bulbs as soon as they arrive. Plant larger bulbs with the base about 5 inches (12.5 cm) below the soil surface, while smaller Fritillaria bulbs should be planted about 3 inches (7.5 cm) down. Plant bulbs in well-drained soil and keep it moist until the root system is established.
Fritillaria bulbs resist deer, squirrels, and bulb-digging rodents and may help protect other bulbs that are favorites of the critters.
Wildflower Fritillarias, as with other lily bulbs, like cool roots. If possible, plant a low-growing ground cover to shade bulbs of the growing Fritillaria plant or mulch the plant to protect it from the summer sun.
Separate wildflower Fritillaria lilies every two years. Remove young bulblets and replant in moist, shady conditions for more of this unusual flower every year.
Source: gardeningknowhow.com
Links