Asphodelus is a genus of mainly perennial plants first described for modern science in 1753 and commonly known as Asphodels.
The genus is native to temperate Europe, the Mediterranean, Africa, the Middle East, and the Indian Subcontinent and is now naturalized in other places.
Asphodels are popular garden plants that grow in well-drained soils with abundant natural light. The plants are hardy herbaceous perennials with narrow tufted radical leaves and an elongated stem bearing a handsome spike of white or yellow flowers. Asphodelus albus and Asphodelus fistulosus have white flowers and grow from 1.5 to 2 feet (45 to 60 cm) tall. Asphodelus ramosus is a larger plant with large white flowers with a reddish-brown line in the middle of each segment.
Growing Conditions and General Cultivation
Grow Asphodels in moderately fertile, well-drained soil in full sun. It does not tolerate heavy, poorly-drained soil. Irrigate occasionally to very little in coastal gardens. They are considered hardy to USDA zone 6. It tolerates temperatures down to 14ºF (-10ºC).
Great as a border or accent plant.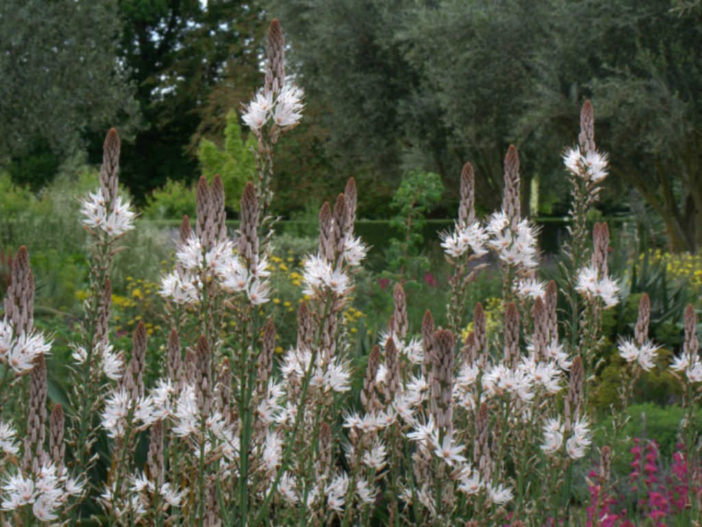 Propagation
Propagate Asphodels by seed, sown in pots in a cold frame in spring, or propagate by division after flowering.
Pruning
Although you can cut back flower stems after flowering, the seed heads are attractive, so they can be left.
Links