Scientific Name
Kalanchoe delagoensis Eckl. & Zeyh.

Common Names
Chandelier Plant, Mother of Thousands, Mother of Millions
Synonyms
Kalanchoe tubiflora, Kalanchoe verticillata, Kalanchoe delagoensis, Bryophyllum tubiflorum, Bryophyllum verticillatum, Bryophyllum delagoense, Geaya purpurea

Scientific Classification
Family: Crassulaceae
Subfamily: Sedoideae
Tribe: Kalanchoeae
Genus: Kalanchoe
Flower
Flower Color: Orange to scarlet
Bloom Time: Winter
Description
Kalanchoe delagoensis is a perennial succulent, reproducing asexually by means of small plantlets borne at the ends of each leaf. Stem erect, up to 3.3 feet (1 m), often with short sterile shoots at the base. Leaves simple, usually ternate, sub-cylindrical, up to 6 inches (15 cm) long, up to 0.2 inch (0.5 cm) wide, lower surface sulcate, often spotted with reddish brown, margins near apex with 3 – 9 conical teeth between which spoon-shaped bulbils are produced. Umbels of trumpet-shaped up to 1.2 inches (3 cm) long orange to scarlet flowers that dangle in clusters from the top of the plant. Due to intense vegetative reproduction, this plant rarely blooms. But well grown larger specimens can flower profusely in winter.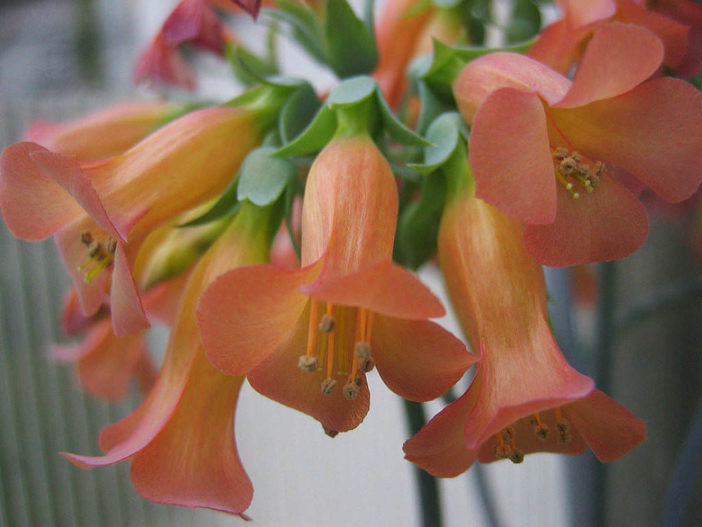 How to Grow and Care
Kalanchoes are not particularly hard to grow, and the flowering varieties are highly rewarding for their colorful and long-lasting flowers.
They prefer bright, sunny locations, especially in the summer growing season. During the winter, consider a south-facing window. Water moderately throughout the summer and reduce watering in the winter. Let the soil surface dry out between waterings, and in the winter, the plant can almost dry out. Watch the fleshy leaves for signs of water distress. An ordinary potting soil mix is fine. Feed bi-weekly in the summer with a liquid fertilizer, or use slow-release pellets… – See more at: How to Grow and Care for Kalanchoe.
Origin
Native to Madagascar.
Links
BACK TO genus Kalanchoe
PLANTOPEDIA: Browse flowering plants by Scientific Name, Common Name, Genus, Family or Origin
Photo Gallery
Photo via worldofsucculents.com

Photo via worldofsucculents.com
Subscribe to Receive News and Updates from World of Flowering Plants: