Scientific Name
Oenothera lindheimeri (Engelm. & A. Gray) W. L. Wagner & Hoch
Common Name(s)
Lindheimer's Beeblossom, White Gaura, Pink Gaura, Lindheimer's Clockweed, Indian Feather
Synonym(s)
Gaura lindheimeri
Scientific Classification
Family: Onagraceae
Subfamily: Onagroideae
Tribe: Onagreae
Genus: Oenothera
Flower
Color: White, pink
Bloom Time: The beginning of spring until the first frost
Description
Oenothera lindheimeri is a perennial herbaceous plant with branched, densely clustered stems that grow from an underground rhizome. It is up to 5 feet (1.5 m) tall. Leaves are finely hairy, lanceolate with a coarsely toothed margin, up to 3.5 inches (9 cm) long and up to 0.5 inches (1.3 cm) wide. Flowers are produced on an up to 2.6 feet (80 cm) long inflorescence. They are pink or white, up to 1.2 inches (3 cm) in diameter, with four up to 0.6 inches (1.5 cm) long petals and long hairlike stamens. They appear from the beginning of spring until the first frost.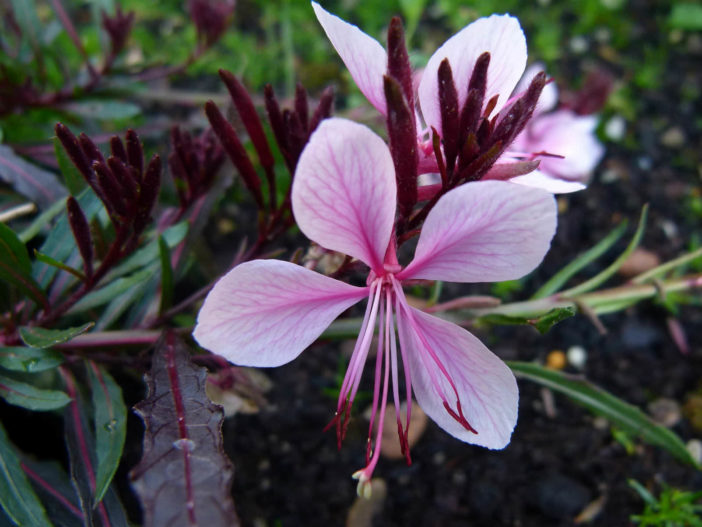 How to Grow and Care
Oenothera plants can be propagated by dividing established clumps from spring to fall. Softwood cuttings may be struck in late spring. Easy to grow Oenothera seeds can be sown directly in the garden in late summer, early fall, or planted early in the spring.
Just cover the tiny seeds, and germinate at 65° to 70°F (18° to 21°C). Seeds require darkness to break dormancy. Space plants 5 to 9 inches (13 to 23 cm) apart. Plant in light, well-drained soil with a pH of around 5.5 to 7.0. Sandy soil works well for this plant.
Oenothera is tolerant of dry and is a good candidate for xeriscaping. The foliage can be robust in really fertile soil, but fewer flowers form. Top dress with fully composted manure in the spring. Provide irrigation during long hot spells, and cut the plants back by a third after flowering to keep them looking neat. Hot summer weather may cause the plants to briefly stop flowering. Powdery mildew sometimes appears in humid conditions.
See more at How to Grow and Care for Oenothera.
Origin
This species is native to southern Louisiana and Texas.
Links
Photo Gallery
Click on a photo to see a larger version.
Advertisements
We participate in the Amazon Services, LLC Associates Program, an affiliate advertising program designed to provide a means for us to earn fees by linking to Amazon.com and affiliate sites.