Scientific Name
Penstemon barbatus (Cav.) Roth
Common Name(s)
Scarlet Bugler, Beardlip Penstemon, Beardlip Beardtongue, Red Penstemon, Red Beardtongue, Golden-Beard Penstemon
Synonym(s)
Penstemon barbatus var. barbatus
Scientific Classification
Family: Plantaginaceae
Tribe: Cheloneae
Genus: Penstemon
Flower
Color: Bright red to orange
Bloom Time: Mid-spring to early summer
Description
Penstemon barbatus is a flowering plant with spikes of clustered scarlet flowers with yellow hairs on their lower lip. The flowers are tubular, up to 1.5 inches (3.8 cm) long, and have two forward-projecting upper lobes and three reflexed lower lobes with a golden-haired, white-streaked base. The leaves are green, opposite, and narrowly linear in shape.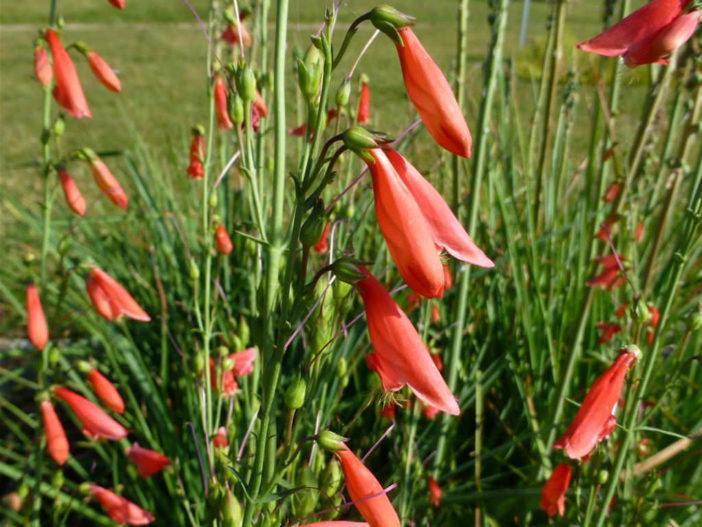 How to Grow and Care
The best location for your Penstemon is in a full sun area with well-draining soil. Penstemon care and maintenance are minimal if the site and moisture requirements are met. Poorly draining soils and freezing temperatures while the plant is still active are the biggest causes of plant mortality.
The perennial is remarkably tolerant of drought conditions and is a stalwart presence in even low nutrient soils. It has had to be adaptable to thrive in windy, exposed areas of mountain foothills.
You can grow Penstemon from seed. They begin as rosettes low to the ground before forming the characteristic flower stalk. Indoor sowing should begin in late winter. Seedlings are ready to transplant when they have a second set of true leaves. Space Penstemon plants 1 to 3 feet apart and mixes in some compost at planting time to help conserve water and increase porosity.
Water the young plants at least once per week as they establish. You can reduce watering as the plant matures. Mulch around the plants to help protect the roots from winter's cold and prevents spring weeds.
See more at How to Grow and Care for Penstemon.
Origin
This species is native to the western United States.
Links
Photo Gallery
Click on a photo to see a larger version.