Add months to your gardening season by planting cool-weather annuals in the early spring (or fall) when temperatures are too chilly for more tender varieties.
1. Calendula
The coin-like, bright yellow or golden flowers of Calendula are always a reminder that spring has finally sprung. This cheerful, easy-care annual doesn't let cool temperatures dampen its spirits. Calendula prefers it on the chilly side and will bloom its head off until hot summer weather stops the show. The plants grow 8 to 24 inches (20 to 60 cm) tall.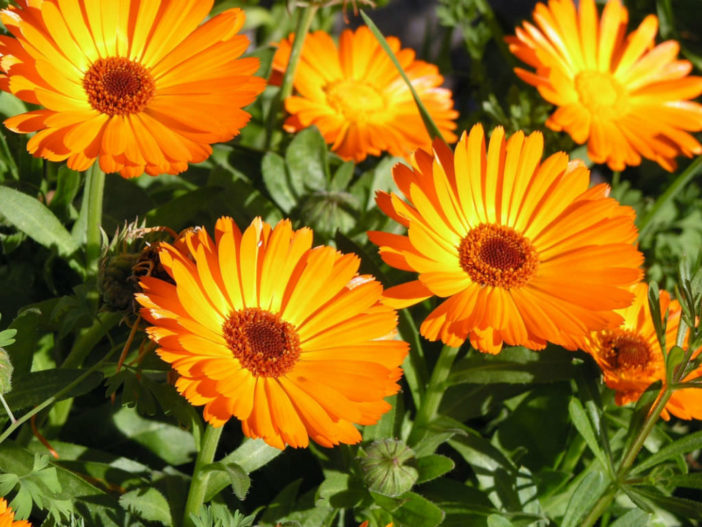 2. Osteospermum
Boost the color in your early spring or fall garden with Osteospermum. Also called African Daisy, this amazing plant produces gorgeous single or double, daisy-like flowers in an electric array of colors and bi-colors. The colors are striking, and you might even be tricked into thinking the flowers aren't real. Top colors include white, blue, purple, orange, yellow, rose, and lavender. Thriving in the sun or partial shade, Osteospermum grows 1 to 3 feet (30 to 90 cm) tall and blooms like crazy when the temperatures are between 50 and 60 °F (10 and 15 °C). Unfortunately, the plants generally stop blooming when summer hits, so you can replace them or wait until cooler weather returns in the fall, and they will bloom again.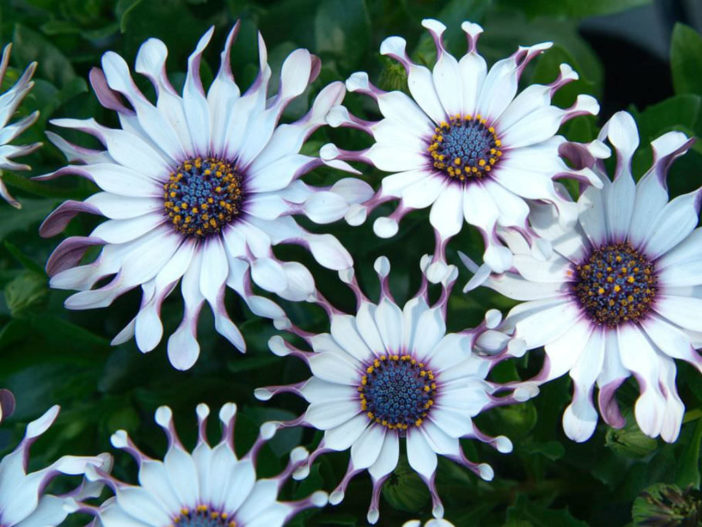 3. Pansy
Talk about irresistible! Pansies come in a wide assortment of colors and bi-colors, many with super cute face patterns on the petals. Growing 6 to 8 inches (15 to 20 cm) tall, Pansies are ideal for container gardens or mass plantings around trees or along garden walkways. They love cool weather and add tons of color to the winter landscape in frost-free regions. In Northern gardens, rely on Pansies for bounteous blooms in the spring and fall. Although it's not required, it does help to remove the flowers as they fade to promote new crops of flowers.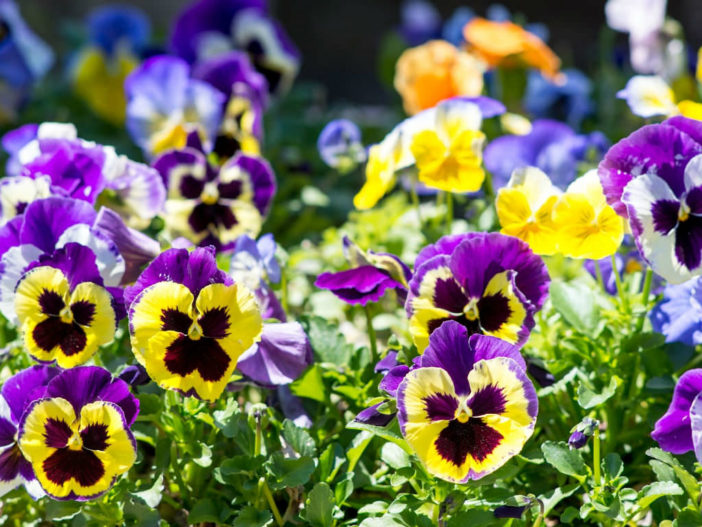 4. Dianthus
Chilly weather won't stop annual Dianthus from putting on a non-stop show of color. These beautiful small plants are tougher than they look, able to keep blooming even after a light frost. Most annual Dianthus grow 6 to 10 inches (15 to 30 cm) tall and produce richly fragrant pink, white, or red flowers. Use annual Dianthus in containers or line them out along a front walk or border edge. Once summer temperatures heat up, Dianthus will often take a break from blooming. Shear them back by about a third, and they'll pop back up and bloom again in the fall.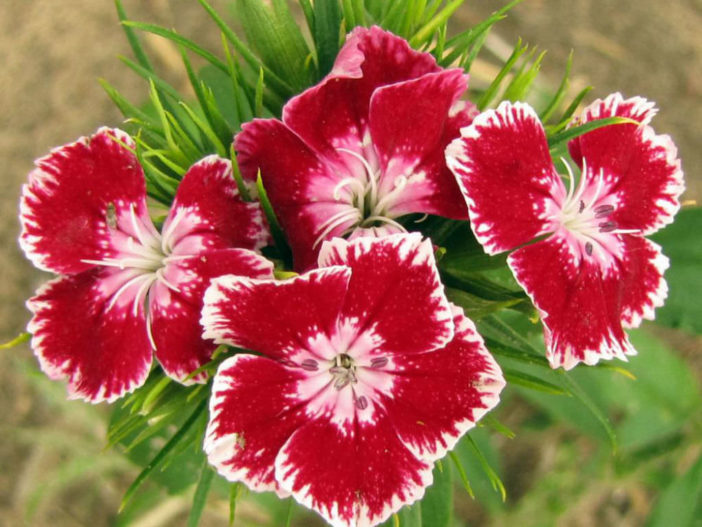 5. Petunia
You might not think of Petunias as cool-weather annuals, but these tough plants do best when temperatures are on the cool side. That's why in some frost-free regions, Petunias are often planted in the fall and winter instead of summer. Petunias come in an astounding variety of colors, bi-colors, shapes, and sizes, and all of them have one thing in common—they bloom happily in containers or garden beds. Just give them a sunny spot, a little fertilizer, and water, and they'll do the rest.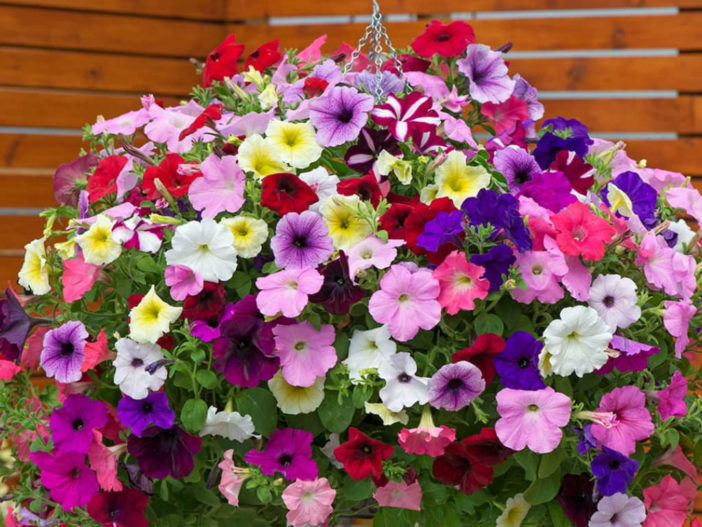 6. Swiss Chard
Have you ever heard the expression "it almost looks good enough to eat"? Well, when it comes to Swiss Chard, it's true! This salad garden favorite develops thick red, yellow, white, or orange stems that look terrific when mixed with early-bird bloomers like Pansy or Dianthus. Swiss Chard grows 12 to 18 inches (30 to 45 cm) tall with delicious dark green, crinkled leaves you can harvest at any time. Plant Swiss Chard in the early spring and clip the leaves and stalks as you need them for fresh salads.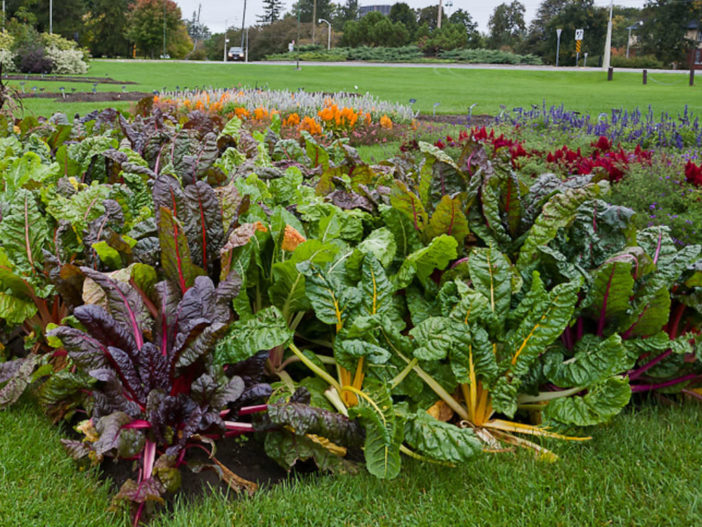 7. Flowering Kale
Bold and beautiful! That's how we describe the richly colored, frilly leaves of Flowering Kale. Appearing in shades of green, blue, purple, rose, and cream, Flowering Kale forms a dense mound that mixes well with other early bloomers. Add to containers or plant directly in the landscape. You can also use Flowering Kale in the perennial border, tucking it between plants that are just waking up after their winter's nap. Flowering Kale prefers full sun but will tolerate light shade. It's not considered an edible variety.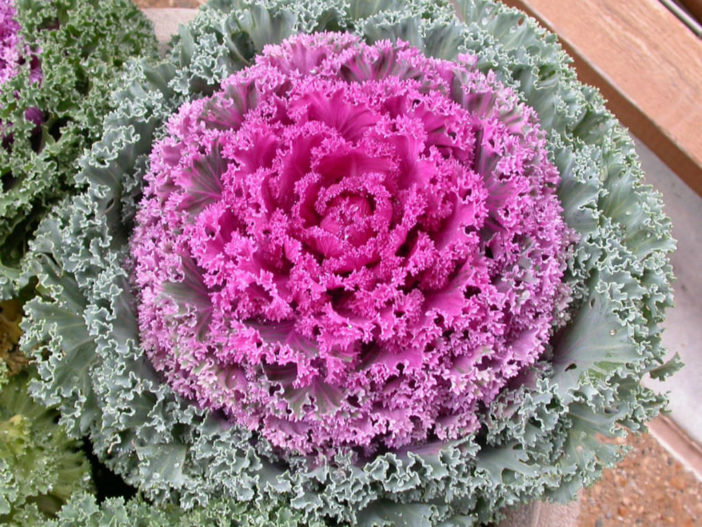 8. Dusty Miller
The soft, silvery foliage of Dusty Miller contrasts beautifully with the bright blooms of other cool-weather annuals. It's the perfect filler plant for mixed containers and baskets. These plants grow 6 to 9 inches (15 to 22.5 cm) tall with velvety, scalloped silver leaves that almost beg you to caress them. Dusty Miller is nearly indestructible, being deer-, drought-, and disease-resistant. That's why it's a terrific first-time plant for children or novice gardeners. It's also a sun worshipper, so plant it where it receives at least 6 hours of sun a day. Unlike some other cool-weather annuals, the Dusty Miller will continue to look good when summer temperatures rise.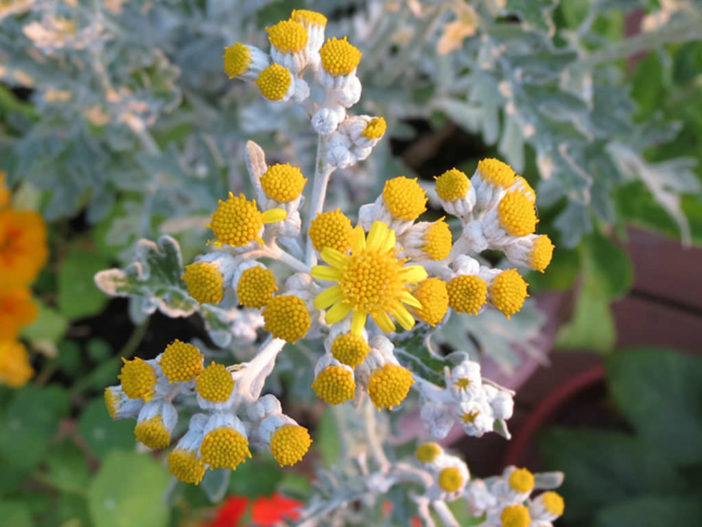 9. Snapdragon
Jump-start the color-show in your garden by filling pots, planters, baskets, and beds with Snapdragons. Available in dwarf, standard, and even trailing varieties, Snapdragons offer an assortment of jewel-like colors that are so bright they practically pop out of the garden. Tall varieties, which can grow 2 feet (60 cm) tall, also make outstanding cut flowers. Snapdragons prefer chilly spring or fall weather and may stop blooming once the weather heats up.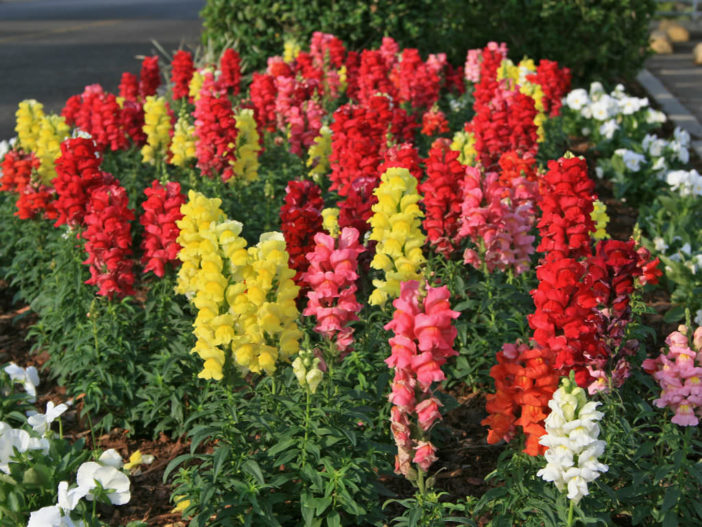 10. Sweet Alyssum
Sweet Alyssum may be small in stature (only growing 4 to 6 inches/10 to 15 cm tall), but it's big on color and fragrance. Producing thousands of tiny white, rose, blue, or bi-colored blooms, Sweet Alyssum will quickly spread or trail through your pots and flower borders. Its nectar-rich blooms are also popular with bees and butterflies. Preferring full sun, Sweet Alyssum is resistant to cool temperatures, and if you plant it, early Sweet Alyssum is more likely to hang around even when summer temperatures soar. If flower production does slow down, give the plants a quick haircut by shearing them back by a third of their height. This will stimulate new growth and a fresh flush of flowers.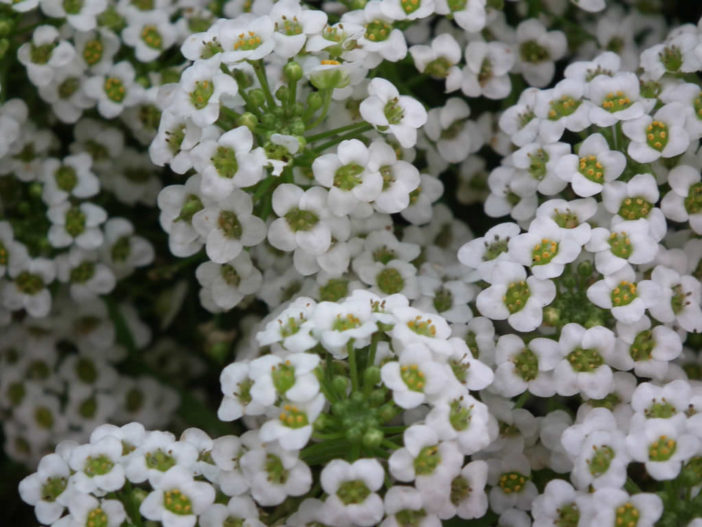 11. Geranium
Few gardeners realize that Geraniums, one of America's favorite summer flowers, are even more vigorous when grown during cool spring or fall weather. In fact, in frost-free regions, Geraniums are often used to color the winter landscape to keep things bright and beautiful even when temperatures drop below 40°F (5°C). Geraniums are also one of the most versatile annuals you can grow and are available in a host of colors and bi-colors as well as upright and trailing forms. They look great on their own or mixed with other annuals in pots, planters, window boxes, or flower beds. Just give them a sunny spot and stand back. They'll do the rest.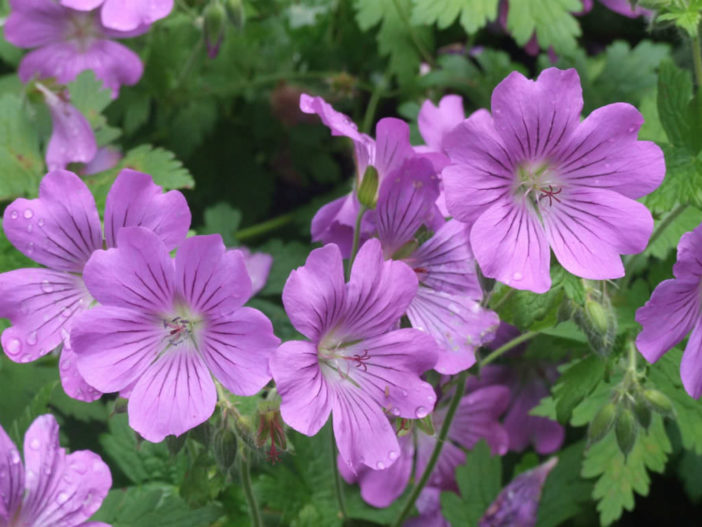 12. Cyclamen
Cyclamen's velvety, crown-like flowers will add a touch of elegance to pots, planters, and garden beds. These little jewels rarely grow over 8 inches (20 cm) tall, but they provide a big impact in various colors, including white, rose, lavender, and red. The plants also sport pretty, heart-shaped leaves that are often streaked in silver or different shades of green. Cyclamen prefer a partially shady location and temperatures that don't go above 65°F (18°C).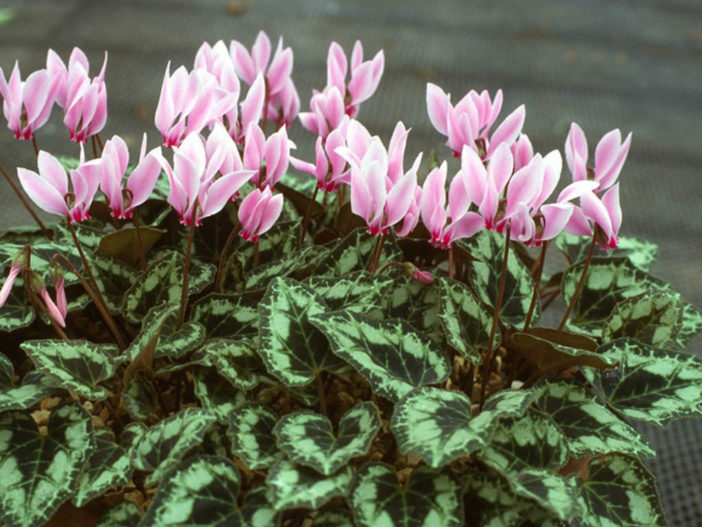 Source: costafarms.com
Links