Scientific Name
Lonicera japonica Thunb.
Common Names
Japanese Honeysuckle, Golden and Silver Honeysuckle
Synonyms
Lonicera japonica var. japonica, Caprifolium chinense, Caprifolium japonicum, Caprifolium roseum, Lonicera brachypoda, Lonicera brachypoda var. repens, Lonicera fauriei, Lonicera shintenensis
Scientific Classification
Family: Caprifoliaceae
Genus: Lonicera
Flower
Color: Opening white and fading to yellow
Bloom Time: April to July
Description
Lonicera japonica is a twining vine able to climb up to 33 feet (10 m) high or more in trees. Leaves are simple, opposite, oval, up to 3.5 inches (8 cm) long, and up to 1.2 inches (3 cm) wide. Flowers are double-tongued, sweetly vanilla scented, opening white and fading to yellow. Fruits are black spherical berry, up to 0.16 inch (4 mm) in diameter, that contain a few seeds. Flower production occurs from late April through July, and sometimes through October.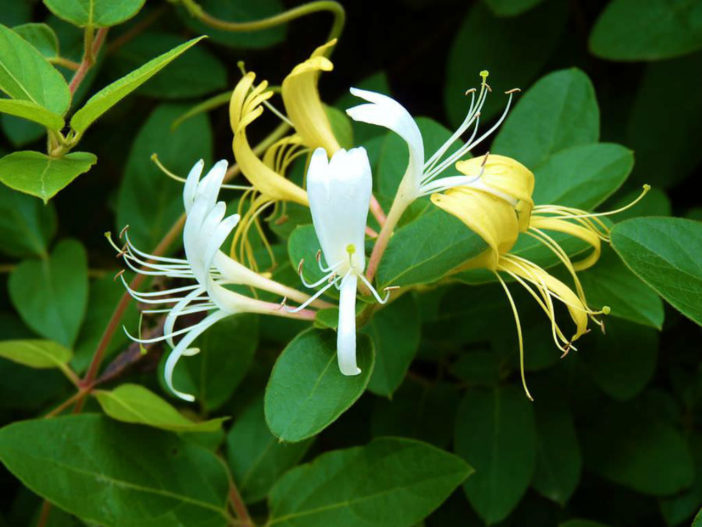 Hardiness
USDA hardiness zone 4a to 10b: from −30 °F (−34.4 °C) to 40 °F (+4.4 °C).
How to Grow and Care
Honeysuckle vines should be planted during the spring in cooler climates because their roots thrive when cool and shaded. Make sure to wait until the final frost before planting them.
When the timing is finally right, locate a spot for planting where they'll get full sun, or at the very least, partial sun exposure. Plant your honeysuckle at a soil depth of 18 inches and lay an organic fertilizer or compost over the top 3 inches.
This type of vine is sensitive to the amount of water and moisture it receives. When you first plant your honeysuckle, the plant will need a considerable amount of water to help it grow. However, by the time summer arrives, your vine will be more fortified and only need small amounts of water, even during dry spells. Many people make the mistake of continuing to water the plant equally throughout these different stages, which is a definite recipe for harmful overwatering in the summer months. See more at 6 Mistakes to Avoid When Growing Honeysuckle Vine.
Origin
Native to eastern Asia, including China, Japan, and Korea.
Links
Photo Gallery
We participate in the Amazon Services, LLC Associates Program, an affiliate advertising program designed to provide a means for us to earn fees by linking to Amazon.com and affiliate sites.