The cottage garden concept has evolved into the prettiness of a rural idyll we think of today, a garden bursting with colorful blowsy blooms, all growing in an apparently glorious muddle. This garden design style has come a long way from its origins of British peasants planting around their humble dwellings to supply the family with food and medicine.
Typically the cottage garden surrounds a quaint home adorned in scented roses and climbers. It is a confined space with no lawn and intersected with paths. However, whether you want to evoke a chocolate box image or just draw on elements of the flower-filled cottage style in a border, the appeal is popular for both country and urban dwellers and any garden size.
Where to Start
Cottage gardens are romantic, relaxed, free-flowering, and fun. They can be planted with pastel tones or brighter hues that you love. Part of the ethos of a cottage garden is imbuing it with your personality. There are no rules. Just plant what you love to create a garden that appeals to you.
Start small so that it doesn't get out of control. Learn how to keep the plants fed and looking abundant, then gradually increase the size. As with all gardening, ensure the soil is good, rich in organic matter, and that the plants you choose suit your conditions and are good performers.
Generally, cottage gardens suit sunny rather than shady spots. Apart from the visual prettiness, there is the bonus of bio-diversity, with plants rarely suffering from diseases and pests due to the wide choice available and many varieties ideal for attracting beneficial insects and wildlife to your garden.
This is not, however, a low-maintenance style. Keeping a cottage garden blooming takes effort. You will be kept very busy mulching, watering, feeding, deadheading, cutting back, dividing, planting, and tweaking the design.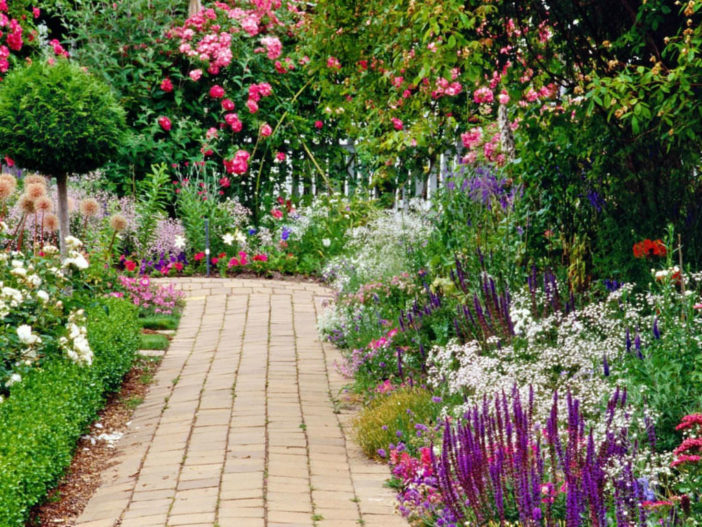 Planting a Cottage Garden
Although cottage gardens look haphazard, some thought needs to be given to planning the effect. You aim for a succession of blooms that provide a tapestry of color. The best plants to use are simple varieties that haven't been overly bred and are high-performance while being tough and reliable.
Think old-fashioned favorites, including Geraniums, roses, and foxgloves, to create an informal, casual atmosphere, and plant them close together, ignoring standard spacing. Let plants flop over and weave through each other. Voluptuous, effervescent, fragrant, and self-seeding choices will help you create the look. Multi-petaled flowers will give that romantic feel, such as blowsy peonies and old roses.
Choosing Plants
You don't need to be confined to only authentic plants, though, as a colorful mix of bulbs, perennials, annuals, and flowering shrubs will give a year-round vision with more structure.
Consider the height and spread of the plants. Although the usual arrangement is to put the tallest plants at the back and the shortest at the front, why not try some taller plants in the middle? Climbers scrambling up supports give background and can also be used among the profusion of rustic obelisks. At the same time, perennials, such as Delphiniums, Aquilegia, Phlox, and pinks planted in clumps, are the backbone, popping up year after year.
Traditionally Hollyhocks were planted against the cottage wall, as before, houses had damp courses. The plants helped draw moisture out of the wall and keep the foundations dry. Today, they immediately give a cottage garden feel, whether against the wall or towering out of a border.
Sow easy-to-grow long-lasting annuals and wildflowers, including Calendula, cornflowers, Nigella, and biennial foxgloves, to fill any gaps. Over time, self-seeding plants will pop up randomly in unexpected spots, giving the design an interwoven lightness and artlessness.
Include some evergreens among the herbaceous in your cottage garden design for interest through winter, and for a nod to the past, incorporate edibles. Step-over-apples could be used as boundaries, chives to edge the paths, medicinal and aromatic herbs interspersed, or chard nestled among the flowers.
Features and Structures
There should be harmony between landscaping and the architecture of the house. Use materials to keep the look, such as weathered bricks, flagstone, wood chips, gravel, or stepping-stones, for paths and paving. Allow the paths to meander, avoiding straight lines or defined patterns, and soften them with billowing plants that spill over, blurring the edges. Alchemilla mollis or Erigeron are ideal for path edges.
Consider enclosing a small cottage garden with traditional fencings, such as shabby chic painted timber pickets, woven willow, or recycled timbers, to set off the effect and order the visual effervescence. Tall structures, including arbors, pergolas, obelisks, or trellis, can support roses, honeysuckle, Wisteria, jasmine, and other scented climbers, while traditional, weathered benches can help to divide the garden into rooms.
Finally, add a touch of whimsy with decorative items as focal points, such as antique watering cans, old tools, flower-clothed obelisks, or sundials – but use restraint not to complicate the scene you are creating.
Source: periodliving.co.uk
Links