Creating a beautiful landscape isn't as hard as you might think. Follow these flower garden design tips for your yard.
1. Research Flowers
The best flower garden designs incorporate several types of blooms, including long-living perennials, short-term but beautiful annuals, seasonal bulbs, ornamental grasses, and vines. Before beginning your flower garden design, know how different garden plant types perform in the garden, what they can offer for color and texture, and their limitations.
2. Choose Your Flower Garden Design Style
Whether dictated by your home's architectural style or personal preferences, your garden's style can also help you set parameters for size and design. Different flower garden design styles lend themselves to different types of plants. For example, a contemporary-leaning landscape may be more rigorous in material selection and flowerbed shape, while a cottage-style garden encourages exuberance and a mix-and-match approach.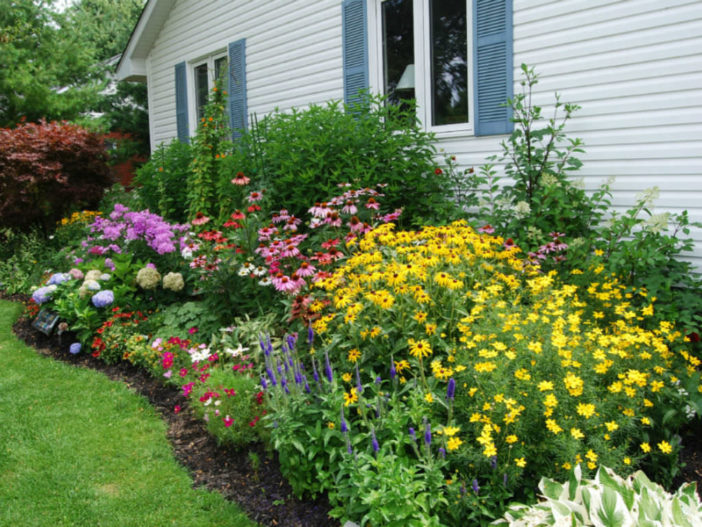 3. Determine the Garden's Shape and Size
Flowers can be arranged in beds of almost any shape and size, from expansive rectangles to petite corner beds. To get an idea of how your flower garden will fit into the rest of your landscape, use a garden hose to define the edges. Then, walk around the bed; see if you can access "plants" in the middle or need to include a path and look at the proposed garden bed from every viewpoint. Don't start too large. You can always begin with a small plot and expand it as needed.
4. Select Flowers
Once you've decided on your flower garden's design, shape, and size, it's time to put your plant research into action. Consider focal points, flower sizes, year-round interest, bloom time, and color combinations.
5. Supply a Focal Point
Every garden bed needs a focal point, no matter how big or small. Focal points give the eye a place to start before moving on to the rest of the flowerbed. That may mean anchoring your large bed with boxwood shrubs on the corners and a flowering shrub in the middle or planting a mass of a single flower type in the center of a skinny border.
6. Evaluate Plant Height
You'll also have to consider height before making plant selections. For example, if your garden is a border along the house, the tallest plants will need to go in the back but shouldn't be so tall that they block windows or doors. The tallest plants should go in the center if your flower garden design is an island. Some shorter plants also suffer when shaded by taller plants, so take individual flowers' needs into consideration.
7. Review Bloom Times
Well-designed flower gardens put a premium on year-round interest and staggered bloom times. Evaluate both factors before selecting plants. You don't want to create a garden full of color in the summertime but bare in fall. That's another reason it's important to combine different types of plants — shrubs that provide spring bloom and winter structure, fall-blooming bulbs, and summertime perennials, for example — in your flower garden design.
8. Select Complementary Flowers and Foliage
Creating the best color combinations in your flower garden design can be tricky. A good place to start is the color wheel. For example, gardens planted in shades of the same hue — pink, to name one — are pleasing to the eye. Colors next to each other on the color wheel — purple and red — look good together, as do colors across from each other — purple and yellow. Foliage can also provide much-needed texture in the garden to add visual interest even when blooms have waned.
9. Rely on Odd Numbers
When arranging plants in your flower garden design, plant at least 3 (or any odd number) of the same kind of plant, either together or spaced apart. It's a visual design trick that feels less jumbled than a one-only collection of plants.
10. Incorporate Hardscape
Hardscape elements, such as pergolas, trellises, and arbors, are great complements to flower garden design. If you're crafting a bed that flows from the front yard to the backyard, for example, an arbor with a climbing rose is a good way to mark the transition from public to private spaces.
11. Prep, Edge, Purchase, and Plant
Once you've decided on all the elements and the garden's size, it's time to prep the bed by removing any old plant material (including grass). You may also want to add edging to your flower garden, such as pavers or other materials. Then it's time to purchase your flowers and plant them according to your flower garden's design.
12. Mulch and Water
Any newly planted flowers should be well-mulched and watered regularly until the plants are established. Monitor your rainfall and supplement as needed, ensuring that your plants receive about an inch of water a week.
Source: bhg.com
Links