Do you know the language of flowers? As our list below shows, each flower has its own meaning. Orange blossom, for instance, symbolizes chastity, purity, and loveliness, while red chrysanthemum means "I love you."
Flowers have always been a big feature at weddings, too. As an example, look to the royal flower bouquet in the wedding of Prince William, Duke of Cambridge, to Kate Middleton (now Catherine, Ducchess of Cambridge). Her flowers had very special meaning.
The groom, too, wears a flower that appears in the bridal bouquet in his button-hole. This stems from the Medieval tradition of wearing his Lady's colors, as a declaration of his love.
One fun idea is to have a garden gathering and have each person bring a flower that has meaning to them. Or, paint tiles on a kitchen island with a flower that represents each of your loved ones.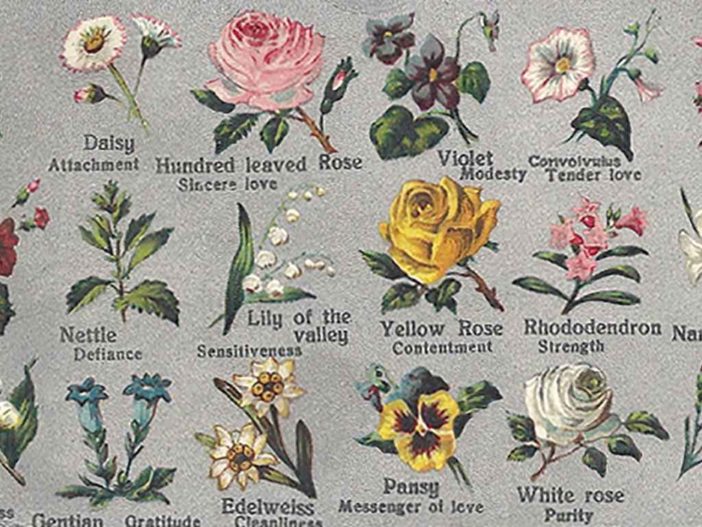 Symbolic Meanings of Herbs, Flowers, and Trees
| | |
| --- | --- |
| Aloe | Healing, protection, affection |
| Angelica | Inspiration |
| Arborvitae | Unchanging friendship |
| Bachelor's button | Single blessedness |
| Basil | Good wishes |
| Bay | Glory |
| Black-eyed Susan | Justice |
| Carnation | Alas for my poor heart |
| Chamomile | Patience |
| Chives | Usefulness |
| Chrysanthemum | Cheerfulness |
| Clover, white | Think of me |
| Coriander | Hidden worth |
| Cumin | Fidelity |
| Crocus, spring | Youthful gladness |
| Daffodil | Regard |
| Daisy | Innocence, hope |
| Dill | Powerful against evil |
| Edelweiss | Courage, devotion |
| Fennel | Flattery |
| Fern | Sincerity |
| Forget-me-not | Forget-me-not |
| Geranium, oak-leaved | True friendship |
| Goldenrod | Encouragement |
| Heliotrope | Eternal love |
| Holly | Hope |
| Hollyhock | Ambition |
| Honeysuckle | Bonds of love |
| Horehound | Health |
| Hyacinth | Constancy of love, fertility |
| Hyssop | Sacrifice, cleanliness |
| Iris | A message |
| Ivy | Friendship, continuity |
| Jasmine, white | Sweet love |
| Lady's-mantle | Comforting |
| Lavender | Devotion, virtue |
| Lemon balm | Sympathy |
| Lilac | Joy of youth |
| Lily-of-the-valley | Sweetness |
| Marjoram | Joy and happiness |
| Mint | Virtue |
| Morning glory | Affection |
| Myrtle | The emblem of marriage, true love |
| Nasturtium | Patriotism |
| Oak | Strength |
| Oregano | Substance |
| Pansy | Thoughts |
| Parsley | Festivity |
| Pine | Humility |
| Poppy, red | Consolation |
| Rose, red | Love, desire |
| Rosemary | Remembrance |
| Rue | Grace, clear vision |
| Sage | Wisdom, immortality |
| Salvia, blue | I think of you |
| Salvia, red | Forever mine |
| Savory | Spice, interest |
| Sorrel | Affection |
| Southernwood | Constancy, jest |
| Sweet pea | Pleasures |
| Sweet William | Gallantry |
| Sweet woodruff | Humility |
| Tansy | Hostile thoughts |
| Tarragon | Lasting interest |
| Thyme | Courage, strength |
| Tulip, red | Declaration of love |
| Valerian | Readiness |
| Violet | Loyalty, devotion, faithfulness |
| Willow | Sadness |
| Yarrow | Everlasting love |
| Zinnia | Thoughts of absent friends |
Source: almanac.com
Links
PLANTOPEDIA: Browse flowering plants by Scientific Name, Common Name, Genus, Family or Origin